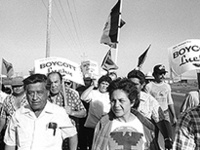 ¡Sí, Se Puede! is an exhibition that draws on the respective archives of Cesar Chavez and Dolores Huerta and their work with the UFW (United Farm Workers)...

It is our pleasure to invite you to this year's Columbia Weekend. Join us for a weekend full of student performances, stunning art, and meaningful social...

Come together with Columbia College Chicago's contingent in the Halloween Parade to celebrate the power and vitality of Chicago's diverse artistic culture....

Join The Workroom in a creepy mask-making workshop to prepare for the Chicago Cultural Mile's parade: Arts in the Dark. Edgar Allan Poe is our inspiration so...
Columbia guitar students will perform a selection of jazz and contemporary tunes during the lunch hour at the Conaway Center.

Join family and friends at the college's long-running Cinema Slapdown series, featuring Lena Waithe's Emmy Award-winning "Thanksgiving" episode and...

The Wabash Arts Corridor (WAC) Crawl is free and open to the public. Find galleries, live music on multiple stages, more than 200 artists, media,...

Join us for a reception to introduce new 2017-18 Diane Dammeyer Fellow, Anahid Ghorbani. The Diane Dammeyer Fellowship in Photographic Arts and Social Issues...

Photography alum Akito Tsuda '93 returns to Chicago for the book release of Pilsen Days and photo exhibition which features intimate, black and white...

Celebrate the exhibition with a tour and catalog release for ¡Sí, Se Puede! Get a catalog and take a tour that walks viewers through the works in the...

Common Threads: An Exploration of Faith series will continue its journey with Buddhism. Join Student Organizations and Leadership in a conversation about...